August 28, 2009 at 18:41 | Posted in
Cute Food Photos
|
4 Comments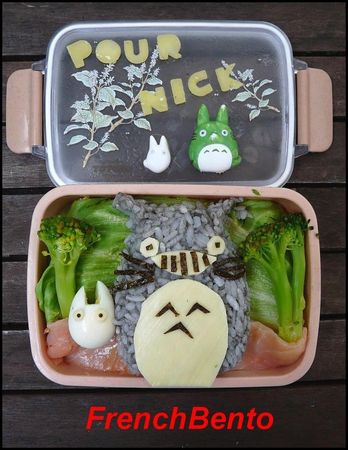 My screen name is Mook. I'm the author of the French 1st bento blogs FrenchBento
frenchbento.canalblog.com/
The url of the Totoro bento is:
frenchbento.canalblog.com/archives/2009/07/06/14310257.html
I've been posting on Flickr bento groups for 3 years, and I opened my blog 2 years ago when I realised there was absolutely nothing on bento in French. I came accross bento and cute cooking while researching on how to make sushi. I'd been packing my lunches for like, ever, so I was seduced immediately.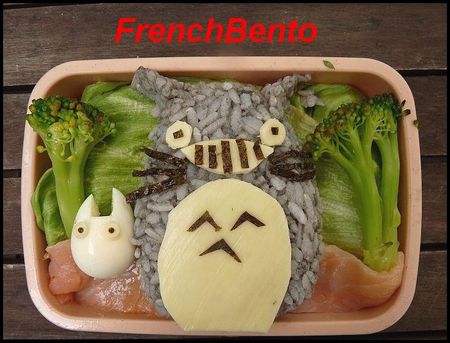 This Totoro bento was actually a surprise for a bento-friend. I dont usually do charaben, but this friend is a Totoro freak, and with other French bento addicts we decided to post a Totoro-themed bento on our blogs on the same day, for him. I had lots of fun doing this and making this bento.
It contains:
-on the bottom, shredded iceberg lettuce (to make the bento less hearty, I'm not a big eater)
-iceberg lettuce leaves. They're perpect because of their large leaves)
-blanched brocoli for trees
-chibi totoro is a hard-boied quail egg, eyes of cheese and nori
-totoro is made of sushi rice mixed with black sesame paste, regular white cheese (cant remember now what kind) and nori
-ground is made of smoked salmon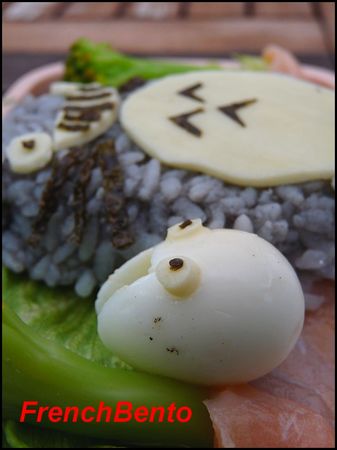 - Come hither to preorder La Carmina's cookbook, Cute Yummy Time: 70 recipes for the cutest food you'll ever eat (Perigee/Penguin, October 09).
- To submit photos of cute food you found or made, click here.
August 28, 2009 at 01:23 | Posted in
Cute Food Photos
|
2 Comments
A Taste of Home magazine occasionally features cute food. Unlike the super-healthy recipes in my book Cute Yummy Time, these tend to be on the junk food side. Still, the cat cake and Santa cupcakes are sure to please children on special occasions.
These recipes can be found on the Taste of Home website: cute pink pig face and baby mice cookies. Adorable!
- My cookbook, Cute Yummy Time, is now available for pre-order – coming out in October 09! Check it out!
- To submit photos of cute food you found or made, click here.
Blog at WordPress.com. | Theme: Pool by Borja Fernandez.
Entries and comments feeds.